We'll begin with a bit of advice on working with and managing windows, including how to quickly hide and show them, the four ways you can view Finder windows, and how to tweak the Toolbar and Sidebar to make them more useful.
I work with a dozen or more apps running at any time, and most of them have more than one open window or tab. So, at any moment there are at least a dozen windows on my two displays. I learned a long time ago that a big part of staying focused is eliminating distractions—managing windows efficiently makes it a lot easier. And the easiest way to eliminate everything except what you're working on is to hide everything except what you're working on.
There are a couple of ways you can do it. My favorites are the Hide and Hide Others commands in the Application menu (the one bearing the app's name).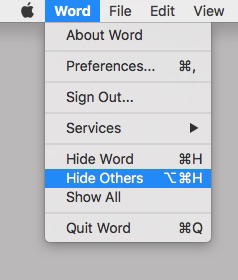 I use the Hide Others command dozens of times a day to banish anything and everything that might distract me from the task at hand. This hides everything but the app I'm using (Microsoft Word in the figure above) and makes it a lot easier to stay focused. Then, when I'm done using whichever app I'm using, I Hide that app's windows before I switch to another app.
Of course I don't use the menus—I only Hide and Show windows via keyboard shortcut, and so should you.
So memorize the shortcuts for both commands immediately:
Hide: Command + H
Hide Others: Command + Option + H
Got 'em memorized yet? I can wait.
OK. Now, in case you forget them, here's another way to use Hide and Hide Others without reaching for the Application menu.
Hide: Hold down the Option key when you click a window from another app, a Dock icon, or the Desktop. The windows from the application you're using hide and the windows from the app you Option-clicked become active.
Hide Others: Hold Down the Command + Option keys when you click the Dock icon of an app to activate it and hide all other apps.
I usually use these shortcuts when I've got one hand on the mouse and one hand on the keyboard.
So give Hide and Hide Others a try if they're not already part of your workflow.
Please follow and like us: